Species Profile
American Ginseng
Scientific Name: Panax quinquefolius
Other/Previous Names: Panax quinquefolium
Taxonomy Group: Vascular Plants
COSEWIC Range: Ontario, Quebec
COSEWIC Assessment Date and Status Change: May 2000
COSEWIC Status: Endangered
COSEWIC Status Criteria: B1+2cde
COSEWIC Reason for Designation: In spite of restrictions on international trade, high rates of collection continue and there have been significant losses of populations over the last decade.
COSEWIC History of Status Designation: Designated Threatened in April 1988. Status re-examined and designated Endangered in April 1999. Status re-examined and confirmed in May 2000.
SARA Status: Schedule 1, Endangered
Date of Listing (yyyy-mm-dd): 2003-06-05

Please note that this information is provided for general information purposes only. For the most up to date and accurate list of species listed under the Species at Risk Act, please see the Justice Laws Website.
Quick Links: | Photo | Description | Distribution and Population | Habitat | Biology | Threats | Protection | Other Protection or Status | Recovery Initiatives | Recovery Team | National Recovery Program | Documents
Image of American Ginseng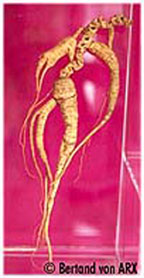 Description
The American Ginseng is a long-lived, perennial herb which measures 20 to 70 cm in height. The root of this plant resembles a carrot; above the root, there is a horizontal rhizome. The stem ends in several compound leaves and a centrally located flower. The flower is greenish-white; it develops into bright red berries. There may be more than one stem on a plant, and there are sometimes flowers near the base of the flowering stalk. The American Ginseng has medicinal properties similar to those of the Oriental Ginseng. It has been used in North America for a long time; native people used it to treat coughs, headaches, rheumatism and fevers.
Distribution and Population
The plant occurs in the United States, from New England south to Louisiana and Georgia. In Canada, it occurs in southern Ontario and southwestern Quebec. It is considered to be rare or uncommon in most of its North American range. In Ontario, concentrations occur along the Niagara Escarpment and the eastern edge of the Precambrian Shield. In Quebec, most sites occur in Monteregian, south of Montreal. The species' range in Quebec has been reduced at its north-eastern limit. There are 139 records for ginseng in Canada, 65 in Ontario and 74 in Quebec. Of 20 Ontario sites checked between 1996 and 1998, 25% had disappeared and 50% had declined. Similar results (i.e., 27% extirpation) were obtained from 22 new sites surveyed in 1997 and 1998. Only seven viable populations are known in Ontario, with a total of 8619 plants. Seventy percent of these plants were found in the two largest colonies. In Quebec, most of the 15 populations are small and dispersed in a fragmented landscape where habitat loss and degradation are high. Nearly 50% of the 10,956 plants are found in two large colonies, only one of which is protected.
Habitat
In Canada, ginseng grows in rich, moist, undisturbed and relatively mature deciduous woods in areas of neutral soil (such as over limestone or marble bedrock). The forest canopy is usually dominated by Sugar Maple, White Ash, Bitternut Hickory, and Basswood. Colonies of ginseng are often found near the bottom of gentle south-facing slopes, where the microhabitat is warm and well-drained.
Biology
Ginseng is a long-lived forest perennial. A new bud is formed on the rhizome of ginseng in late summer or early fall; this bud will produce a new stem the following year. Ginseng plants begin flowering when they are three to eight years old; they then flower annually. Flowering begins in June and continues until August. The fruit develop from July to August and ripen in August and September. It is possible for a flower cluster to have flowers and fruit at the same time. Ginseng reproduces mainly through seeds, though rhizome fragmentation has been reported. Most seeds fall close to the parent plants; dispersal of seeds far from the parent plant is done by birds. Ginseng seeds lie dormant for 18 to 22 months before germinating. A seed has only a 0.55% chance of reaching maturity. The Minimum Viable Population Size for ginseng is estimated to be about 170 plants.
Threats
In Canada, the main limiting factors for ginseng are small population size, habitat loss and degradation from clearing and logging, and over-harvesting. Small populations are very vulnerable to changes in the environment. Habitat destruction or modification occurs because of forest clearing, urban development and the expansion of agricultural lands. Logging, which opens the canopy and impacts on the ecology of the whole forest, contributed to the loss or decline of 25% of sampled sites in Ontario. In Quebec, seven populations succumbed to habitat loss and degradation. Harvest severely reduces the reproductive potential of the colonies - even a 5% annual root harvest will bring a viable ginseng population toward extirpation. Export of wild roots is banned. Woodland cultivation is becoming increasingly popular, resulting in habitat disturbances associated with site preparation and maintenance and the introduction of seed-borne pathogens and foreign genes.
Protection
Federal Protection
The American Ginseng is protected under the federal Species at Risk Act (SARA). More information about SARA, including how it protects individual species, is available in the Species at Risk Act: A Guide.
The American Ginseng is protected by the Quebec Act Respecting Threatened or Vulnerable Species. Under this Act, it is prohibited to possess, trade, or harm this species, or to disturb its habitat.
Provincial and Territorial Protection
To know if this species is protected by provincial or territorial laws, consult the provinces' and territories' websites.
Other Protection or Status
American Ginseng is included in Appendix II of the Convention on International Trade in Endangered Species of Wild Fauna and Flora (CITES), which sets controls on the international trade and movement of species that have been, or may be, threatened due to commercial exploitation.
Recovery Initiatives
Status of Recovery Planning
Recovery Strategies :
Name Recovery Strategy for the American Ginseng (Panax quinquefolius) in Canada
Status Final posting on SAR registry
Recovery Team
Contact Person for Recovery Planning
Québec: Unité de planification de la conservation - Service canadien de la faune - Chair/Contact -
Send Email
Recovery Progress and Activities
Summary of Progress to Date Due to outreach initiatives, awareness of the endangered status of American Ginseng and its vulnerability to even a small amount of harvesting has grown. However, wild American Ginseng populations have declined rapidly over the last couple of decades due to both legal and illegal harvesting and habitat degradation and loss, thus recovery efforts for this species are urgently needed. Summary of Research/Monitoring Activities Surveys have been conducted to identify remaining wild populations of ginseng, their status, and local threats. This information has been used to design both landscape level and site-specific protection and recovery measures. Ginseng populations in Quebec and Ontario are monitored annually in order to monitor the effectiveness of conservation measures. Results of studies of ginseng habitat requirements are being applied in the identification of sites that may be suitable for reintroduction. Ginseng cultivation is an expanding industry in Canada, for which non-native ginseng has been imported. It is difficult to visually distinguish native, endangered ginseng, from cultivated non-native ginseng. Therefore, researchers are investigating the genetics of ginseng to assess the effectiveness of a molecular method for distinguishing ginseng subspecies or strains. Some ginseng cultivation takes place in woodlots. As a result, a study is taking place on the impacts of forestry activities on wild American Ginseng. Summary of Recovery Activities American Ginseng habitat is protected in several parks and reserves in Quebec and Ontario; however, illegal harvest of the plant remains a significant threat. Relocating trails to avoid ginseng and relocating ginseng plants away from trails have both been attempted. Many American Ginseng sites in Ontario and Quebec occur on private land, thus stewardship by landowners and land managers is necessary for the species' recovery. Therefore, researchers and landowners are working together to prepare and implement detailed plans to protect key ginseng populations that occur on private lands. Ginseng propagation techniques have been successfully developed at the Biodome in Montreal and ginseng is grown there for possible future reintroductions. Sites for potential reintroduction would be selected based on suitable habitat as well as security from illegal harvest. Ginseng from the Biodome population has been used to augment ten wild populations that were considered at risk of extirpation. http://www.nps.gov/plants/medicinal/pubs/ginseng.htm http://www.bioone.org/bioone/?request=get-document&issn=0003-0031&volume=149&issue=02&page=0282
Documents
PLEASE NOTE: Not all COSEWIC reports are currently available on the SARA Public Registry. Most of the reports not yet available are status reports for species assessed by COSEWIC prior to May 2002. Other COSEWIC reports not yet available may include those species assessed as Extinct, Data Deficient or Not at Risk. In the meantime, they are available on request from the COSEWIC Secretariat.
11 record(s) found.
Reports on the Progress of Recovery Document Implementation
COSEWIC Status Reports
COSEWIC assessment and update status report on the American Ginseng (Panax quinquefolius) in Canada (2000-05-01)

American Ginseng, also known as ginseng (Panax quinquefolius L.), is a long-lived perennial herb 20 to 70 cm tall. It is composed of an elongated tap-root, bearing a spindly rhizome and an aerial stem ending in a whorl of palmately-compound leaves. The inflorescence is an umbel, found at the tip of the aerial stem, that originates from the center of the compound leaves. This feature distinguishes ginseng from similar associated species. Note: As per Section 124 of SARA, on the advice of COSEWIC, the Minister has restricted the release of information regarding the location or habitat of this wildlife species, as it is in the best interest of the species.
Recovery Strategies
Recovery Strategy for the American Ginseng (Panax quinquefolius) in Canada (2018-06-20)

The Minister of the Environment and the Minister responsible for the Parks Canada Agency are the competent ministers under SARA for the recovery of American Ginseng and have prepared this strategy, as per section 37 of SARA. To the extent possible, it has been prepared in cooperation with the Governments of Ontario (Ministry of Natural Resources and Forestry) and Quebec (Ministère du Développement durable, de l'Environnement et de la Lutte contre les Changements Climatiques) as per section 39(1) of SARA.
Action Plans
Multi-species Action Plan for Thousand Islands National Park of Canada (2016-03-29)

The Multi-species Action Plan for Thousand Islands National Park of Canada is a Species At Risk Act action plan (SARA s.47) for four species: American Water-willow (Justicia americana), Butternut (Juglans cinerea), Deerberry (Vaccinium stamineum), and Pugnose Shiner (Notropis anogenus). The plan also outlines measures to monitor and manage 30 other species of conservation concern that regularly occur in the park. This plan applies only to lands and waters occurring within the boundaries of Thousand Islands National Park of Canada.
Permits and Related Agreements
Factsheet
American ginseng (Panax quinquefolius) (2013-10-28)

When American ginseng was first discovered growing in North America in 1715, it set off a lucrative trade business and rapidly became the second most important Canadian export after fur. The roots of ginseng had been used for centuries in traditional Asian medicine, and it was in high demand. Ginseng is still used by many people today in the practice of traditional medicine. Unfortunately, this wild perennial plant has become very rare in Canada, and the harvest of wild American ginseng is now considered unsustainable. Very few viable populations remain in Canada; even low levels of harvest and poaching pose a real threat to its survival because of its slow growth and low rate of reproduction in the wild. American ginseng plants are long-lived but can take three to eight years to reach maturity and begin flowering.
Critical Habitat Descriptions in the Canada Gazette
Description of American Ginseng critical habitat in federal protected areas (2020-02-01)

The American Ginseng (Panax quinquefolius) is a plant species listed as endangered on Schedule 1 of the Species at Risk Act. It is a shade-tolerant species that typically requires large and relatively undisturbed mature forests. In Canada, the American Ginseng occurs in the provinces of Ontario and Quebec. Due to the nature of the threats affecting the species, release of information to the public with respect to the location of the American Ginseng and its critical habitat has been restricted under section 124 of the Species at Risk Act in order to protect the species.
Recovery Document Posting Plans
Environment and Climate Change Canada's Three-Year Recovery Document Posting Plan (2016-07-06)

Environment and Climate Change Canada's Three-Year Recovery Document Posting Plan identifies the species for which recovery documents will be posted each fiscal year starting in 2014-2015. Posting this three year plan on the Species at Risk Public Registry is intended to provide transparency to partners, stakeholders, and the public about Environment and Climate Change Canada's plan to develop and post these proposed recovery strategies and management plans. However, both the number of documents and the particular species that are posted in a given year may change slightly due to a variety of circumstances. Last update December 2, 2021