Species Profile
Van Brunt's Jacob's-ladder
Scientific Name: Polemonium vanbruntiae
Other/Previous Names: Van Brunt's Jacob's Ladder,Polemonium van-bruntiae
Taxonomy Group: Vascular Plants
COSEWIC Range: Quebec
COSEWIC Assessment Date and Status Change: November 2002
COSEWIC Status: Threatened
COSEWIC Status Criteria: Met criteria for Endangered, B1ab(i,ii,iii,iv,v)+2ab(i,ii,iii,iv,v), but designated Threatened, D2, because a significant portion of the largest population is in a protected area with ongoing conservation activities.
COSEWIC Reason for Designation: Few extant populations occupying very small habitats at risk from agricultural impacts, logging and other development pressures, and recreational activities.
COSEWIC History of Status Designation: Designated Threatened in April 1994. Status re-examined and confirmed in November 2002.
SARA Status: Schedule 1, Threatened
Date of Listing (yyyy-mm-dd): 2005-01-12

Please note that this information is provided for general information purposes only. For the most up to date and accurate list of species listed under the Species at Risk Act, please see the Justice Laws Website.
Quick Links: | Photo | Description | Distribution and Population | Habitat | Biology | Threats | Protection | Recovery Initiatives | Recovery Team | National Recovery Program | Documents
Image of Van Brunt's Jacob's-ladder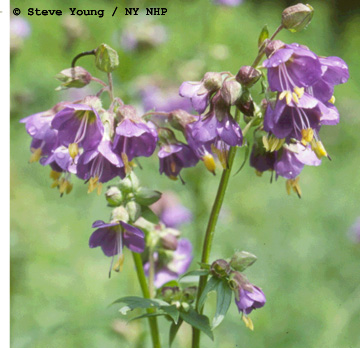 Description
Van Brunt's Jacob's-ladder is an herbaceous perennial with loose branching clusters of blue-violet flowers.  It emerges from a branched rhizome (horizontal underground stem) to stand 40 to 140 centimeters tall.  The stem is smooth, robust, and upright, branching only at the flower heads.  The leaves consist of 11 to 21 smooth leaflets that alternate on the stem.  They are oval to oblong, 5 to 60 millimeters long, and 2 to 25 millimeters wide.  Leaf size decreases as you go up the plant; basal leaves average 50 centimeters long, while those at the base of the flower heads are only about 2 centimeters long.  The slender flower heads are tubular at the base and bear two to eight odourless flowers measuring 15 to 25 millimeters in diameter.  The flowers have a yellowish-green base and blue-violet petals.
Distribution and Population
Van Brunt's Jacob's-ladder grows naturally in the central Appalachians of eastern North America. It occurs in a relatively small area from eastern West Virginia to southern New Brunswick and southeastern Quebec, where it reaches its northern limit. It is known from three sites in New Brunswick, one historic site was rediscovered in 2009, one new site was found in 2005, and one site that may have been introduced. All other known Canadian populations (past and present) occur in the Eastern Townships and the Bois Francs region of southeastern Quebec. In 2001, an estimated 20 000 plants were growing in 12 populations within eight general areas. Two new populations were discovered in previously unexplored sites, and two previously known populations have disappeared.
Habitat
Van Brunt's Jacob's-ladder grows in rich soil, in open or semi-open habitat that floods in the spring but does not have standing water all summer.  This type of habitat is found in riparian meadows, swamps, or non-wooded depressions that are often at the bottom of slopes and near streams.  Grassy clearings that are too wet for large trees are also suitable.  The average temperature at sites in Canada is about 4 degrees Celsius, and the average annual precipitation is high at 1016 millimeters.  Although the plant is found in mountainous regions, it prefers flat terrain with a slight slope.  The Quebec populations occur at the limit of Maple-basswood and Maple-yellow Birch bioclimatic zones.  Surrounding vegetation usually consists of Spruce, Fir, or Cedar.  Most populations are associated with a variety of common and invasive grasses.  Where competition is very strong, Van Brunt's Jacob's-ladder usually has problems spreading.
Biology
In Quebec, Van Brunt's Jacob's-ladder flowers from mid-June to the end of July.   The flowers are pollinated by insects, mainly bees, and the fruits start to ripen by mid-August.  Many stalks of this plant stay upright well into the winter, and seeds are dispersed by the wind across the snow.  These seeds appear to require a period of cold dry conditions before they can germinate.  Van Brunt's Jacob's-ladder also reproduces vegetatively from rhizomes, which can form clones or clusters of a few individuals up to hundreds of plants.  The importance of seed dispersal relative to vegetative spread varies from site to site.  Transplantation is possible, and botanists at the Montreal Botanical Garden are investigating germination and cultivation of Van Brunt's Jacob's-ladder, as well as other plants that are endangered in Quebec.
Threats
Van Brunt's Jacob's-ladder has specific moisture requirements; it cannot tolerate changes that extend spring flooding, or cause the habitat to dry out too much.  The greatest threats to Van Brunt's Jacob's-ladder are road and residential construction, agriculture (including mowing, ploughing, and cultivation of Christmas trees), logging, and all-terrain vehicle traffic.
Protection
Federal Protection
The Van Brunt's Jacob's-ladder is protected under the federal Species at Risk Act (SARA). More information about SARA, including how it protects individual species, is available in the Species at Risk Act: A Guide.
Van Brunt's Jacob's-ladder is designated threatened under Quebec's Act: Respecting Threatened or Vulnerable Species. It is illegal to harvest, destroy, or possess this plant outside its natural environment, and fines can be imposed.  All populations of this plant in Canada are on privately owned land.  In 2001, the Quebec Society for Wetland Conservation, a private organisation, purchased an important site for Van Brunt's Jacob's-ladder, and negotiations are under way to acquire a second property.
Provincial and Territorial Protection
To know if this species is protected by provincial or territorial laws, consult the provinces' and territories' websites.
Recovery Initiatives
Status of Recovery Planning
Recovery Strategies :
Name Recovery Strategy for the Van Brunt's Jacob's-ladder (Polemonium vanbruntiae) in Canada
Status Final posting on SAR registry
Recovery Team
Contact Person for Recovery Planning
Québec: Unité de planification de la conservation - Service canadien de la faune - Chair/Contact -
Send Email
Recovery Progress and Activities
Summary of Progress to Date To date, 12 occurrences have been inventoried in Quebec, one of which is historical (last encounter dating back over 25 years) and one of which has disappeared. Therefore, we know of 10 actual occurrences, nearly all of poor quality and mostly showing signs of decline associated with changes in habitat. Conservation agreements made with landowners allow habitat restoration activities on private lands. To date, four Van Brunt's Jacob's-ladder populations, two of them among the largest in Canada, and over 22 hectares of habitat have been protected. Summary of Research and Monitoring Activities Jacob's-ladder populations have been monitored since 1994. A demographic study initiated in 2005 should lead to a more accurate estimate for different population surveys, in addition to providing a standardized long-term monitoring protocol. Efforts are being made to confirm identifications where other closely related species may have been introduced. A conservation plan specific to the Province of Quebec has been developed and its implementation will begin in 2006. Summary of Restoration Activities Landowners where the habitat is found are informed about species protection at individual meetings. These meetings also offer the possibility of integrating the owners' community knowledge into the project and increasing their awareness to the necessary conservation measures. URLs Canadian biodiversity: Endangered species – Van Brunt's Jacob's-ladder:http://www.canadianbiodiversity.mcgill.ca/english/species/endangered/endangeredpages/ast_lau.htm Plantes menacées ou vulnérables au Québechttp://www.mddep.gouv.qc.ca/biodiversite/especes/polemoine/polemoine.htm (available in French only)
Documents
PLEASE NOTE: Not all COSEWIC reports are currently available on the SARA Public Registry. Most of the reports not yet available are status reports for species assessed by COSEWIC prior to May 2002. Other COSEWIC reports not yet available may include those species assessed as Extinct, Data Deficient or Not at Risk. In the meantime, they are available on request from the COSEWIC Secretariat.
8 record(s) found.
COSEWIC Status Reports
COSEWIC assessment and update status report on the van Brunt's Jacob's-ladder Polemonium vanbruntiae in Canada (2002-11-01)

Van Brunt's Jacob's-ladder (Polemonium vanbruntiae) is an herbaceous perennial of the Polemoniaceae. The stems are upright, 40 to 140 cm tall. The leaves are composed of 7 to 21 ovate to oblong leaflets. The panicled flowers, which are blue-violet in colour, are 15 to 25 mm in diameter and have 5 petals and 5 sepals; the stamens are yellow and strongly exserted. The fruit is an ovoid capsule containing brownish-black seeds.
Response Statements
Response Statements - Van Brunt's Jacob's-ladder (2004-04-21)

A response statement is a communications document that identifies how the Minister of the Environment intends to respond to the assessment of a wildlife species by the Committee on the Status of Endangered Wildlife in Canada (COSEWIC). The document provides a start to the listing and recovery process for those species identified as being at risk, and provides timelines for action to the extent possible.
Recovery Strategies
Orders
Order Acknowledging Receipt of the Assessments Done Pursuant to Subsection 23(1) of the Species at Risk Act (2004-04-21)

This Order acknowledges receipt by the Governor in Council of the assessments of the status of wildlife species done pursuant to subsection 23(1) of the Species at Risk Act (SARA) by the Committee on the Status of Endangered Wildlife in Canada (COSEWIC). The purpose of SARA is to prevent wildlife species from being extirpated or becoming extinct, to provide for the recovery of wildlife species that are extirpated, endangered or threatened as a result of human activity and to manage species of special concern to prevent them from becoming endangered or threatened.

Order Amending Schedules 1 to 3 to the Species at Risk Act (volume 139, number 2, 2005) (2005-01-12)

Schedule 1, the List of Wildlife Species at Risk of the Species at Risk Act (SARA), is amended by Order of the Governor in Council (GIC), on the recommendation of the Minister of the Environment, by the addition of 73 species. This Order is based on scientific assessments by the Committee on the Status of Endangered Wildlife in Canada (COSEWIC) and follows consultations with provincial and territorial governments, Aboriginal peoples, stakeholders and the public, and analysis of costs and benefits to Canadians.
COSEWIC Annual Reports
COSEWIC Annual Report - 2003 (2003-10-01)

May 2003 Annual Report to the Canadian Endangered Species Conservation Council by the Committee on the Status of Endangered Wildlife in Canada.
Permits and Related Agreements
Consultation Documents
Consultation on Amending the List of Species Under the Species At Risk Act: March 2004 (2004-03-03)

The Government of Canada proclaimed the Species at Risk Act (SARA) on June 5, 2003 as part of its strategy for the protection of wildlife species at risk. Attached to the Act is Schedule 1, the list of the species that receive protection under SARA, hereinafter referred to as the 'SARA list'. Canadians are invited to comment on whether all or some of the species included in this document should be added to the SARA list.