Species Profile
Western Spiderwort
Scientific Name: Tradescantia occidentalis
Taxonomy Group: Vascular Plants
COSEWIC Range: Alberta, Saskatchewan, Manitoba
COSEWIC Assessment Date and Status Change: November 2002
COSEWIC Status: Threatened
COSEWIC Status Criteria: Met criteria for Endangered, B1ab(ii,iii)+2ab(ii,iii), but designated Threatened, D2, because it persists as dormant subterranean structures and seeds during times of drought. It re-appears when precipitation is adequate for renewed growth and flowering.
COSEWIC Reason for Designation: A perennial restricted to four disjunct sand dune habitats where the species is at risk from invading leafy spurge, cattle grazing and dune stabilization.
COSEWIC History of Status Designation: Designated Threatened in April 1992. Status re-examined and confirmed in November 2002.
SARA Status: Schedule 1, Threatened
Date of Listing (yyyy-mm-dd): 2005-01-12

Please note that this information is provided for general information purposes only. For the most up to date and accurate list of species listed under the Species at Risk Act, please see the Justice Laws Website.
Quick Links: | Photo | Description | Distribution and Population | Habitat | Biology | Threats | Protection | Recovery Initiatives | Recovery Team | National Recovery Program | Documents
Image of Western Spiderwort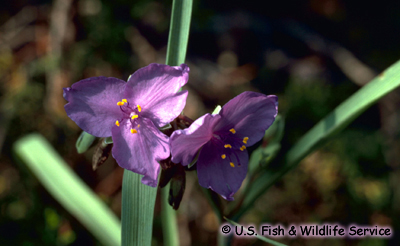 Description
The Western Spiderwort is a perennial flowering plant of sand dunes. It has a straight slender stem, and grows to heights of 5 to 60 cm. The leaves are grass-like, 10 to 30 cm long, have prominent purplish veins, and are folded lengthways. The flowers have three petals that are 10 to 15 cm long and slightly pointed at the tips. The petals are typically dark blue, but occasionally can be white or pink. Flowers occur in clusters, but only a single flower opens each day, and lasts just a few hours. One to six grey seeds, 2 to 4 mm long, are contained within an oblong papery capsule. The species' common English name comes from the gel-like substance secreted by the plant's broken stem. It can be stretched into long strands that form cobweb-like threads when they harden.
Distribution and Population
The Western Spiderwort is found in the central United States, from Texas, New Mexico, and Arizona in the south, to Montana and the Dakotas in the north. In Canada, the Western Spiderwort is at the northern limit of its range. It occurs at only four sites in the southern part of the Prairies: Pakowki Lake Sand Hills in southeastern Alberta, Douglas Provincial Park in Saskatchewan, and Lauder and Routledge sand hills in southwestern Manitoba. The two sites in Manitoba are connected to the main range of the species in the United States. Surveys from 1996 to 2002 indicate that the Western Spiderwort population in Canada has fluctuated from a low of about 15 000 to a high of about 50 000 plants, with the majority found at two Manitoba sites. In 2001, a year with low precipitation, the Alberta site had only 7 plants; in 2002, under more favourable conditions, 7 450 plants were counted.
Habitat
The Western Spiderwort grows on partly stabilized sand dune ridges, usually on the crests and steeper south-facing slopes. It is typically associated with areas of active, drifting sand, where vegetation is relatively sparse. In Manitoba, the Western Spiderwort has also been known to grow in meadows and in shaded habitat — especially in grazed areas. Above average moisture in the summer increases both population size and the length of the flowering period. Above-ground shoots require a protective layer of snow to survive the winter.
Biology
The flowers of the Western Spiderwort open in late June or early July, and are pollinated by insects, usually sweat bees. The seedpods break open about three weeks after flowering and release between one and six seeds. The seeds tend to fall quite close to the plant, so the Western Spiderwort usually grows in clumps. It can also spread vegetatively by developing roots off the stem. After flowering, the above-ground parts of the plant dry up and new shoots grow from the base of the stem. Much of this new growth survives the winter and resumes growing the following spring. Western Spiderwort is unlikely to be mistaken for many other plants, as there are no other members of this plant family (Commelinaceae) native to Western Canada. Some close relatives are grown as ornamentals, but rarely escape from gardens.
Threats
Loss of habitat is the main factor in the decline in Western Spiderwort populations. The conversion of native prairie into agricultural lands has greatly decreased the amount of suitable habitat for the species. Petroleum exploration and extraction in Manitoba is also threatening to wipe out the largest population in Canada. Leafy Spurge Euphorbia esula, an exotic weed, spreads very quickly and forms dense stands that exclude other plants. Excessive vegetation causes shading and stabilizes the slopes of the dunes, resulting in a habitat that is unsuitable for Western Spiderwort. High levels of grazing by cattle can seriously threaten populations of Western Spiderwort, but light to moderate grazing prevents vegetation from encroaching and helps to maintain the active dune habitat.
Protection
Federal Protection
The Western Spiderwort is protected under the federal Species at Risk Act (SARA). More information about SARA, including how it protects individual species, is available in the Species at Risk Act: A Guide.
The Western Spiderwort is listed as threatened under the Manitoba Endangered Species Act. It is illegal to kill, harm, possess, interfere with, or damage the habitat of listed species in Manitoba. It is possible to protect plants under the Alberta Wildlife Act, however, no status designations for plants have yet been assigned under this Act. In Saskatchewan, the Western Spiderwort is designated as endangered under the provincial Wildlife Act and is protected from being disturbed, collected, harvested, captured, killed, or exported.
Provincial and Territorial Protection
To know if this species is protected by provincial or territorial laws, consult the provinces' and territories' websites.
Recovery Initiatives
Status of Recovery Planning
Recovery Strategies :
Name Recovery Strategy for Western Spiderwort (Tradescantia occidentalis) in Canada
Status Final posting on SAR registry
Recovery Team
Prairie Plant Species at Risk Recovery Team
Candace Neufeld - Chair/Contact - Environment Canada
Phone: 306-975-4101 Send Email
Western Spiderwort Recovery Team (Alberta)
Joel Nicholson - Chair/Contact - Government of Alberta
Phone: 403-528-5202 Fax: 403-362-5212 Send Email
Recovery Progress and Activities
Summary of Progress to Date The primary focus of the recovery team for plants at risk in Prairie Canada is inventorying, monitoring, and collecting habitat and demographic information on the species to better understand its habitat associations, distribution, and threats in Canada. Summary of Research/Monitoring Activities Existing populations are surveyed during the flowering season. Similar habitat and areas surrounding Western Spiderwort populations also are surveyed to identify any additional populations. In 2002 and 2004, seeds were collected from populations in MB and AB. Investigation into seed longevity, seed germination, and propagation will be conducted. During the summer of 2005, researchers for PFRA-AAFC examined the impact of grazing by sheep on Western Spiderwort as well as the impact and possible control of the invasive plant leafy spurge. Genetic work is also being done on the intra and inter-population genetic diversity of this species in Canada. Summary of Recovery Activities Voluntary stewardship agreements have been secured with rural landowners to conserve habitat for this rare plant species. The landowners have agreed not to cultivate land or unduly disturb the rare plant species residing there. Landowner awareness is being raised through Nature Saskatchewan's Rare Plant Rescue Program, including their Stewards of Saskatchewan newsletter that was launched in 2002. The newsletter includes information on stewardship, species at risk, and biodiversity. Additional education and awareness activities include displays at trade shows, regional fairs, and other events. Bio-control of leafy spurge is taking place to enhance Western Spiderwort habitat at CFB-Shilo. An Alberta Western Spiderwort Recovery Plan was recently approved. This will be the second year of implementation of the plan in that province. URLs Nature Saskatchewan:http://www.naturesask.ca Saskatchewan Environment: Western Spiderwort:http://www.se.gov.sk.ca/ecosystem/speciesatrisk/westernspiderwort.htm Manitoba's Species at Risk:http://www.gov.mb.ca/conservation/wildlife/managing/pdf/western_spiderwort.pdf Alberta Species at Riskhttp://www.srd.gov.ab.ca/fw/speciesatrisk/recovery_teams.htmlhttp://www.srd.gov.ab.ca/fw/speciesatrisk/ Environment Canada Species at Riskwww.speciesatrisk.gc.cawww.sarapublicregistry.gc.ca
Documents
PLEASE NOTE: Not all COSEWIC reports are currently available on the SARA Public Registry. Most of the reports not yet available are status reports for species assessed by COSEWIC prior to May 2002. Other COSEWIC reports not yet available may include those species assessed as Extinct, Data Deficient or Not at Risk. In the meantime, they are available on request from the COSEWIC Secretariat.
7 record(s) found.
COSEWIC Status Reports
Response Statements
Response Statements - Western Spiderwort (2004-04-21)

A response statement is a communications document that identifies how the Minister of the Environment intends to respond to the assessment of a wildlife species by the Committee on the Status of Endangered Wildlife in Canada (COSEWIC). The document provides a start to the listing and recovery process for those species identified as being at risk, and provides timelines for action to the extent possible.
Recovery Strategies
Recovery Strategy for Western Spiderwort (Tradescantia occidentalis) in Canada (2013-10-22)

Western Spiderwort is a perennial plant with three-petaled purple flowers and grass-like foliage. It is listed as Threatened under Schedule 1 of the Species at Risk Act. The Minister of the Environment is the competent minister for the recovery of the Western Spiderwort and has prepared this strategy, as per section 37 of SARA. It has been prepared in cooperation with: (1) provincial jurisdictions in which the species occurs – Saskatchewan, Alberta and Manitoba; (2) industry stakeholders – Canadian Cattlemen's Association; and (3) federal land managers –Agriculture and Agri-Food Canada – Agri-Environment Services Branch (previously known as Prairie Farm Rehabilitation Administration).
Orders
Order Acknowledging Receipt of the Assessments Done Pursuant to Subsection 23(1) of the Species at Risk Act (2004-04-21)

This Order acknowledges receipt by the Governor in Council of the assessments of the status of wildlife species done pursuant to subsection 23(1) of the Species at Risk Act (SARA) by the Committee on the Status of Endangered Wildlife in Canada (COSEWIC). The purpose of SARA is to prevent wildlife species from being extirpated or becoming extinct, to provide for the recovery of wildlife species that are extirpated, endangered or threatened as a result of human activity and to manage species of special concern to prevent them from becoming endangered or threatened.

Order Amending Schedules 1 to 3 to the Species at Risk Act (volume 139, number 2, 2005) (2005-01-12)

Schedule 1, the List of Wildlife Species at Risk of the Species at Risk Act (SARA), is amended by Order of the Governor in Council (GIC), on the recommendation of the Minister of the Environment, by the addition of 73 species. This Order is based on scientific assessments by the Committee on the Status of Endangered Wildlife in Canada (COSEWIC) and follows consultations with provincial and territorial governments, Aboriginal peoples, stakeholders and the public, and analysis of costs and benefits to Canadians.
COSEWIC Annual Reports
COSEWIC Annual Report - 2003 (2003-10-01)

May 2003 Annual Report to the Canadian Endangered Species Conservation Council by the Committee on the Status of Endangered Wildlife in Canada.
Consultation Documents
Consultation on Amending the List of Species Under the Species At Risk Act: March 2004 (2004-03-03)

The Government of Canada proclaimed the Species at Risk Act (SARA) on June 5, 2003 as part of its strategy for the protection of wildlife species at risk. Attached to the Act is Schedule 1, the list of the species that receive protection under SARA, hereinafter referred to as the 'SARA list'. Canadians are invited to comment on whether all or some of the species included in this document should be added to the SARA list.