Species Profile
Northern Bobwhite
Scientific Name: Colinus virginianus
Taxonomy Group: Birds
COSEWIC Range: Ontario
COSEWIC Assessment Date and Status Change: May 2013
COSEWIC Status: Endangered
COSEWIC Status Criteria: B1ab(iii)+2ab(iii); D1
COSEWIC Reason for Designation: Owing to habitat loss, this grassland bird's population has declined dramatically over historical levels and shows no sign of recovery. There is only one viable population remaining in Canada, located on Walpole Island, Ontario. The status of this species is complicated by the presence of introduced pen-reared birds whose genetic composition is believed to pose a threat to the remaining native population.
COSEWIC History of Status Designation: Designated Endangered in April 1994. Status re-examined and confirmed in November 2003 and May 2013.
SARA Status: Schedule 1, Endangered
Date of Listing (yyyy-mm-dd): 2005-07-14

Please note that this information is provided for general information purposes only. For the most up to date and accurate list of species listed under the Species at Risk Act, please see the Justice Laws Website.
Quick Links: | Photo | Description | Distribution and Population | Habitat | Biology | Threats | Protection | Recovery Initiatives | National Recovery Program | Documents
Image of Northern Bobwhite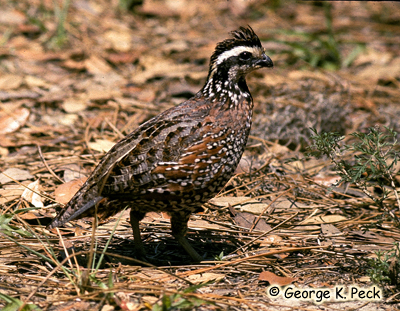 Description
The Northern Bobwhite, Colinus virginianus, (French name: Colin de Virginie) is a member of the New World quail family Odonotophoridae. It is a small, grouse-like bird; males have a black necklace, white throat and a white line above the eye, females have a buffy throat and eye-stripe. (Updated 2017/05/24)
Distribution and Population
The Northern Bobwhite is found from southeastern Wyoming east to Massachusetts south through eastern Mexico to western Guatemala. In Canada it is found only in southern Ontario, with natural populations likely restricted to Walpole Island and perhaps the adjacent mainland. It has been introduced to many other areas with limited long-term success. (Updated 2017/05/24)  
Habitat
The Northern Bobwhite requires an early successional habitat that can be provided in a variety of vegetation types. Minimally it requires an interspersion of grassland, cropland, and brushy cover. In Ontario it is now usually associated with cultivated lands rather than native prairie fringes. In Ontario there were originally thousands of hectares of long-grass prairie in the extreme southwest. After settlement by Europeans, the creation of numerous small farms with diverse crops, inefficient harvest methods and large weedy hedgerows greatly enhanced the potential for bobwhites, and resulted in the tremendous population increase. But, through the previous century, the trend has been away from pasture and summer fallow, and natural prairie has been all but eliminated. Habitat fragmentation is also ongoing, and may be a more significant problem than overall habitat loss. (Updated 2017/05/24)
Biology
The nest is a shallow depression in the ground lined with plant material covered with grasses or vines arched over it for concealment. The mean clutch size is 12 to 16 eggs; incubation takes 23 to 24 days and the downy young can fly at an age of 6 or 7 days. Only one brood is typically raised per season at the northern edge of the range. Nests with eggs have been found from late May through mid-September, but the likelihood of successful hatching or fledging decreases as the season progresses. Mean nesting losses may be 60 to 70 percent. About 80 percent of the fall population consists of juvenile birds and the mean annual mortality of the species (including young birds) is about 80 percent. Adult annual survival is about 30 percent. Northern Bobwhite are nonmigratory, but in fall some birds disperse several kilometres. Winter coveys require a minimum of 4.9 ha and rarely use more than 20 ha. (Updated 2017/05/24) 
Threats
Habitat quality and quantity are the main factors limiting populations, as natural prairie habitat has all but disappeared and agricultural habitats have become less suitable through intensification. Continued reintroduction efforts have been ineffective and may be contributing to the continuing population decline through the introduction of inappropriate genetic stock. (Updated 2017/05/24)  
Protection
Federal Protection
The Northern Bobwhite is protected under the federal Species at Risk Act (SARA). More information about SARA, including how it protects individual species, is available in the Species at Risk Act: A Guide.
Provincial and Territorial Protection
To know if this species is protected by provincial or territorial laws, consult the provinces' and territories' websites.
Recovery Initiatives
Status of Recovery Planning
Recovery Strategies :
Name Recovery Strategy for the Northern Bobwhite (Colinus virginianus) in Canada
Status Final posting on SAR registry
Recovery Progress and Activities
Summary of Recovery Activities There are currently no recovery activities specifically addressing the Northern Bobwhite, but it benefits from several ecosystem-level conservation programs such as the Carolinian Canada Species at Risk Outreach/Education program, which raises public awareness of species at risk in the Carolinian ecosystem; the Walpole Island Heritage Center interpretation program, which promotes the natural significant species and ecosystems on Walpole Island; and the Ontario Spring Garden Prairie ecosystem public outreach program delivered through the Ojibway Centre. URLs Ontario's Biodiversity: Species at Risk:http://www.rom.on.ca/ontario/risk.php?doc_type=fact&lang=&id=110 Tallgrass Ontario:http://www.tallgrassontario.org/IndSpecies_NBobwhite.htm Canadian Wildlife Service: Ontario Regionwww.on.ec.gc.ca/wildlife/wildspace/life.cfm?ID=NOBO&Page=Image&Lang=e
Documents
PLEASE NOTE: Not all COSEWIC reports are currently available on the SARA Public Registry. Most of the reports not yet available are status reports for species assessed by COSEWIC prior to May 2002. Other COSEWIC reports not yet available may include those species assessed as Extinct, Data Deficient or Not at Risk. In the meantime, they are available on request from the COSEWIC Secretariat.
11 record(s) found.
COSEWIC Status Reports
Response Statements
Response Statement - Northern Bobwhite (2004-10-22)

This species depends on native prairie and old meadow habitats that have largely disappeared from its southern Ontario range. Its population has declined drastically over the last 30 years and shows no sign of significant recovery. There is perhaps only one viable population in Canada, on Walpole Island, Ontario. The status of this species is complicated by the presence of many introduced populations which typically do not persist and whose genetic composition may pose a threat to native populations.

Response Statement - Northern Bobwhite (2013-12-18)

Owing to habitat loss, this grassland bird's population has declined dramatically over historical levels and shows no sign of recovery. There is only one viable population remaining in Canada, located on Walpole Island, Ontario. The status of this species is complicated by the presence of introduced pen-reared birds whose genetic composition is believed to pose a threat to the remaining native population.
Recovery Strategies
Recovery Strategy for the Northern Bobwhite (Colinus virginianus) in Canada (2018-12-13)

The Minister of Environment and Climate Change is the competent minister under SARA for the Northern Bobwhite and has prepared this recovery strategy, as per section 37 of SARA. To the extent possible, it has been prepared in cooperation with the province of Ontario and Walpole Island First Nation as per section 39(1) of SARA.
Orders
Order Acknowledging Receipt of the Assessments Done Pursuant to Subsection 23(1) of the Act (2004-10-19)

The Order acknowledges receipt by the Governor in Council of the assessments of the status of wildlife species done pursuant to subsection 23(1) of the Species at Risk Act (SARA) by the Committee on the Status of Endangered Wildlife in Canada (COSEWIC). The purpose of SARA is to prevent wildlife species from being extirpated or becoming extinct, to provide for the recovery of wildlife species that are extirpated, endangered or threatened as a result of human activity and to manage species of special concern to prevent them from becoming endangered or threatened.

Order Amending Schedules 1 to 3 to the Species at Risk Act (volume 139, number 15, 2005) (2005-07-27)

The Minister of the Environment is recommending, pursuant to section 27 of the Species at Risk Act (SARA), that 43 species be added to Schedule 1, the List of Wildlife Species at Risk. This recommendation is based on scientific assessments by the Committee on the Status of Endangered Wildlife in Canada (COSEWIC) and on consultations with governments, Aboriginal peoples, wildlife management boards, stakeholders and the Canadian public.

Order Extending the Time for the Assessment of the Status of Wildlife Species (2006-06-14)

The time provided for the assessment of the status of the wildlife species set out in the schedule is extended for 3 years from the day on which section 14 of the Species at Risk Act comes into force.
COSEWIC Annual Reports
COSEWIC Annual Report - 2004 (2004-09-16)

2004 Annual Report to the Canadian Endangered Species Conservation Council (CESCC) from the Committee on the Status of Endangered Wildlife in Canada.

COSEWIC Annual Report – 2012-2013 (2013-09-24)

Under Canada's Species at Risk Act (SARA), the foremost function of COSEWIC is to "assess the status of each wildlife species considered by COSEWIC to be at risk and, as part of the assessment, identify existing and potential threats to the species". COSEWIC held two Wildlife Species Assessment Meetings in this reporting year (October, 2012 to September 2013) from November 25 to November 30, 2012 and from April 28 to May 3, 2013. During the current reporting period, COSEWIC assessed the status or reviewed the classification of 73 wildlife species. The wildlife species assessment results for the 2012-2013 reporting period include the following: Extinct: 0 Extirpated: 2 Endangered: 28 Threatened: 19 Special Concern: 19 Data Deficient: 4 Not at Risk: 1 Total: 73 Of the 73 wildlife species examined, COSEWIC reviewed the classification of 50 species that had been previously assessed. The review of classification for 26 of those species resulted in a confirmation of the same status as the previous assessment.
Consultation Documents
Consultation on Amending the List of Species under the Species at Risk Act: November 2004 (2004-11-23)

The Government of Canada proclaimed the Species at Risk Act (SARA) on June 5, 2003 as part of its strategy for the protection of wildlife species at risk. Attached to the act is Schedule 1, the list of the species that receive protection under SARA, hereinafter referred to as the 'SARA list'. Canadians are invited to comment on whether all or some of the species included in this document should be added to the SARA list.
Recovery Document Posting Plans
Environment and Climate Change Canada's Three-Year Recovery Document Posting Plan (2016-07-06)

Environment and Climate Change Canada's Three-Year Recovery Document Posting Plan identifies the species for which recovery documents will be posted each fiscal year starting in 2014-2015. Posting this three year plan on the Species at Risk Public Registry is intended to provide transparency to partners, stakeholders, and the public about Environment and Climate Change Canada's plan to develop and post these proposed recovery strategies and management plans. However, both the number of documents and the particular species that are posted in a given year may change slightly due to a variety of circumstances. Last update December 2, 2021