Species Profile
Maritime Ringlet
Scientific Name: Coenonympha nipisiquit
Other/Previous Names: Coenonympha tullia nipisiquit
Taxonomy Group: Arthropods
COSEWIC Range: Quebec, New Brunswick
COSEWIC Assessment Date and Status Change: April 2009
COSEWIC Status: Endangered
COSEWIC Status Criteria: B1ab(iii)+2ab(iii)
COSEWIC Reason for Designation: Globally, this species of Satyr butterfly is confined to 10 salt marshes in the small region of Baie des Chaleurs and Gaspesie. Only three populations are large enough for long term survival to be probable. All populations are expected to experience habitat loss due to both sea level rise and increased storm frequency. The New Brunswick populations are also subject to threats associated with increased urban development and the collection of host plants.
COSEWIC History of Status Designation: Designated Endangered in April 1997. Status re-examined and confirmed in May 2000 and in April 2009.
SARA Status: Schedule 1, Endangered
Date of Listing (yyyy-mm-dd): 2003-06-05

Please note that this information is provided for general information purposes only. For the most up to date and accurate list of species listed under the Species at Risk Act, please see the Justice Laws Website.
Quick Links: | Photo | Description | Distribution and Population | Habitat | Biology | Threats | Protection | Recovery Initiatives | Recovery Team | National Recovery Program | Documents
Image of Maritime Ringlet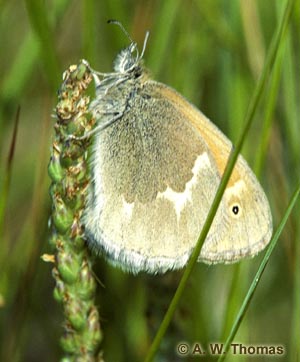 Description
The Maritime Ringlet is a small diurnal dark-coloured butterfly with a wingspan of 3.2 to 3.6 cm. In males, the upperside of the wings is usually dark ochre with a greyish border. The underside of the front wing is dark ochre shaded with grey and has a wide, cream-coloured band. An eyespot is present in about one third of the males. The eyespot sometimes appears on the upperside of the front wing as a dark spot with a lighter halo. The underside of the back wing is brown, often becoming progressively suffused with grey with an olivaceous cast towards the top. There is a prominent irregular-shaped cream-coloured band in the centre edged with a diffuse brown band. As the males age, they become progressively darker. Females have similar characteristics, but are more ochre-coloured. The eyespot in females is better defined and much more common. Like other butterflies, the Maritime Ringlet has four life stages: egg, larva, pupa (from which the adult emerges) and butterfly. The eggs, approximately 1.1 mm in length, are pale green when first laid and become light tan mottled with light brown patches after three to four days. At maturity, the larvae are between 2.0 and 2.3 cm in length and approximately 0.4 cm in width at their broadest point. The body is slightly arched and ends in two short yellowish green tails with reddish brown tips. The head and entire body are covered with small bumps, each with a bent brownish hair, giving the larvae a granular appearance. The body is green to yellowish green, with a series of green or yellow stripes. The pupae, which are about 1.2 cm in length, are suspended from a small silk pad typically attached to a grass stem. The Maritime Ringlet can be confused with the Inornate Ringlet. However, the upperside of the wings of the latter is usually lighter ochre in colour. Although the upperside of the wings of some males can be as dark as in the Maritime Ringlet, the hind wing often has light-coloured patches near the edge. The underside is also lighter in colour, ranging from light grey to almost cream. The flight season of the Inornate Ringlet usually ends before Maritime Ringlet adult emergence begins.
Distribution and Population
The Maritime Ringlet is restricted to the east coast of Canada, around Chaleur Bay in northern New Brunswick and along the south coast of the Gaspé Peninsula in Quebec. Only ten populations are known: four in Quebec and six in New Brunswick, including the two new introduced populations at Bas-Caraquet and Rivière du Nord, northeast of Bathurst. In reality, there are only three natural locations for the species, only two of which support large populations, namely the Bathurst region in New Brunswick and Rivière Nouvelle in Quebec. The third location is in Forillon National Park of Canada, where the small size of the population poses a threat to its long-term survival. The Maritime Ringlet generally occurs in dense populations in relatively small areas. In New Brunswick, there are a total of 27 000 to 37 000 adults in four natural populations, comprising one location, with an additional 2 000 to 3 000 adults in two introduced populations. There are fewer than 27 000 adults in Quebec, in two locations, most in only one of the four populations. Only three populations, in two locations, are large enough for long-term survival to be probable. Little is known regarding the past distribution and abundance of the Maritime Ringlet. An increase was observed at one site following a decline in 1995 and 1996, but it is impossible to estimate the size of the increase, as census methods have changed. There is no evidence that any populations have been lost. At present, most populations appear to be relatively stable in size and their habitat quality also seems stable.
Habitat
The Maritime Ringlet is restricted to salt marshes in Chaleur Bay. Only occasional use is made of neighbouring habitats, mainly by adults feeding on flowers. Adults are more common in sections of salt marsh with abundant stands of salt-meadow grass, the host plant of the larvae, and sea lavender, which provides nectar for the adults.
Biology
Adult Maritime Ringlets have only one flight season per year, lasting about four weeks, from mid-July to the second or third week of August. Adult males spend much of the day flying over the salt marsh, where females might be found. Females mate only once, typically on the day of emergence, and begin laying their eggs shortly after mating. Eggs are laid singly at the base of salt-meadow grass, which appears to be the only host plant used by the species. The eggs hatch 10 to 14 days after they are laid, from late July to the third week of August. The larvae, or caterpillars, feed on young shoots of salt-meadow grass. After the first moult, which leads to the second larval stage, the caterpillars continue to feed on the new shoots of the host plant. In mid- to late October, they stop feeding and enter a period of rest, which lasts until spring. Between late April and late May, the larvae resume feeding and, once they complete their development, form a chrysalis in July. The adults emerge about 10 days later. The newly emerged butterflies move to a suitable location to allow their wings to expand and dry. Females usually remain near the pupation site until they have mated. Most female movements are then probably related to the selection of oviposition, or egg-laying, sites and to nectar sources. In New Brunswick and probably also in Quebec, the primary food source of the adults is nectar from sea lavender flowers. Adult individuals can live as long as two weeks.
Threats
The Maritime Ringlet occurs at only three locations globally in a set of small, disjunct populations. This extremely limited distribution is one of the most important factors affecting the probability of the long-term persistence of this species. The fact that all populations of this species are found within a small geographic area increases the risk of extinction from single large-scale events. Sea level rise and increasing damage to salt marshes through erosion and storm damage will likely adversely impact all populations. Sea levels in the region of the Maritime Ringlet's locations have risen by over 3 mm a year since 1911, and are predicted to rise by between 0.4 and 0.7 m over the next 100 years. If this prediction holds true, it is likely that there will be increased inundation of the salt marshes and that currently suitable areas may become unsuitable as a result. Increased erosion of salt marsh habitat resulting from increased frequency and intensity of storms will likely exacerbate this effect. Increasing urban development around Bathurst and Beresford is a significant threat to at least one population, the largest in New Brunswick. As a result of its reliance on salt marshes, the Maritime Ringlet is particularly susceptible to any release of potentially toxic chemicals, such as industrial effluent and process water, detergents and hydrocarbons. The probability of these types of disturbances in New Brunswick is increasing as urbanization and waterfront development continue near salt marshes. In Quebec, these threats are currently relatively low, as development is minimal near these populations. The picking of the adult nectaring plant, sea lavender, is also considered a potential threat in New Brunswick.
Protection
Federal Protection
The Maritime Ringlet is protected under the federal Species at Risk Act (SARA). More information about SARA, including how it protects individual species, is available in the Species at Risk Act: A Guide.
Neither the Maritime Ringlet nor its habitat is currently protected under provincial legislation in Quebec. The species is protected under the Canada National Parks Act when it is found in Forillon National Park of Canada. It is also protected under New Brunswick's Endangered Species Act, which makes it an offence to harm, kill or collect individuals of this species or to disturb their habitat. Maritime Ringlet habitat in New Brunswick is also protected under the Watercourse and Wetland Alteration Regulation. The New Brunswick Maritime Ringlet Recovery Strategy and Action Plan has been completed.
Provincial and Territorial Protection
To know if this species is protected by provincial or territorial laws, consult the provinces' and territories' websites.
Recovery Initiatives
Status of Recovery Planning
Recovery Strategies :
Name Recovery Strategy for the Maritime Ringlet (Coenonympha nipisiquit) in Canada
Status Final posting on SAR registry
Recovery Team
Contact Person for Recovery Planning
Québec: Unité de planification de la conservation - Service canadien de la faune - Chair/Contact -
Send Email
Recovery Progress and Activities
Summary of Progress to Date A Maritime Ringlet recovery team has been formed and the team maintains a website (www.satyrefauve.ca www.maritimeringlet.ca). Summary of Research/Monitoring Activities Most Maritime Ringlet colonies have been surveyed annually since 1996. Two populations that declined substantially after a severe storm in December 1995 have been slowly recovering. However, the largest population has been declining slowly for several years. Researchers have not yet determined the cause of the decline. Researchers have gained a thorough understanding of the life history and habitat requirements of the Maritime Ringlet in New Brunswick through field studies conducted annually since 1993. Young larvae's survival rates have been found to vary significantly among subtly different microhabitats within a marsh; researchers are currently studying these and other possible causes of different mortality levels. Maps of the distribution and relative abundance of the butterflies have been compared to maps of their principal nectar source (sea lavender) and other vegetation to identify the plant community required for survival of the Maritime Ringlet. This technique was used to select suitable salt marshes for reintroducing the Maritime Ringlet. The immature stages of the Maritime Ringlet experience periodic tidal submergence, and it is suspected that they may be affected by water pollution. Marsh water may be contaminated by lawn fertilizers, insecticides, herbicides, septic leachate and many other residential and industrial sources of pollution. Researchers are currently conducting a study in which water samples from the salt marsh in Beresford will be analyzed for a variety of pollutants. Summary of Recovery Activities The recovery team determined that being restricted to only a few colonies increased the Maritime Ringlet's vulnerability to extinction. Although other sites with suitable habitat exist, Maritime Ringlets have not colonized them because they are separated from butterfly colonies by unsuitable habitat. Therefore, in 1994, 45 butterflies were introduced to a salt marsh about 60 km east of Bathurst. The introduced population has grown very successfully, reaching about 800 individuals in 1998. In 1997, a second group of butterflies was released at another salt marsh about 45 km east of Bathurst, and this population has also grown successfully. Two Maritime Ringlet colonies are in habitat currently protected by Ducks Unlimited (Carron Point) and the City of Bathurst (Daly Point Reserve). However, the second largest colony occurs in salt marshes within the town limits of Beresford and is vulnerable to small-scale disturbances (e.g., clearing of adjacent habitats, illegal in-filling) and to pollution from runoff containing herbicides, pesticides and lawn fertilizers. In 2002 the Town of Beresford held a public ceremony at which it signed a municipal stewardship agreement for the Maritime Ringlet. The Town has stopped mowing municipal parklands to the edge of the saltmarsh, leaving a grass buffer strip instead, and has planted native species in some places. "Fragile Habitat" signs have been placed at strategic areas near marshes in order to discourage ATV users from driving in wetland habitat. Because the Beresford salt marsh is largely privately owned, the cooperation of landowners is also crucial for the maintenance of the ringlet colony. A website has been created (www.satyrefauve.ca www.maritimeringlet.ca) and between 2002 and 2004 landowners of salt marshes were contacted and advised of stewardship actions they can adopt to conserve the Maritime Ringlet. This has resulted in pledges of ringlet-friendly land-use from many landowners neighbouring the marsh. URLswww.satyrefauve.ca www.maritimeringlet.ca
Documents
PLEASE NOTE: Not all COSEWIC reports are currently available on the SARA Public Registry. Most of the reports not yet available are status reports for species assessed by COSEWIC prior to May 2002. Other COSEWIC reports not yet available may include those species assessed as Extinct, Data Deficient or Not at Risk. In the meantime, they are available on request from the COSEWIC Secretariat.
11 record(s) found.
COSEWIC Status Reports
COSEWIC Assessments
COSEWIC Assessment - Maritime Ringlet (2009-08-28)

The Maritime Ringlet, Coenonympha nipisiquit, is a member of the Family Nymphalidae (Brush-footed butterflies) and subfamily Satyrinae (Satyrs). No subspecies are recognized.
Response Statements
Response Statement - Maritime Ringlet (2009-11-25)

Globally, this species of Satyr butterfly is confined to 10 salt marshes in the small region of Baie des Chaleurs and Gaspesie. Only three populations are large enough for long term survival to be probable. All populations are expected to experience habitat loss due to both sea level rise and increased storm frequency. The New Brunswick populations are also subject to threats associated with increased urban development and the collection of host plants.
Recovery Strategies
Recovery Strategy for the Maritime Ringlet (Coenonympha nipisiquit) in Canada (2012-10-23)

The Maritime Ringlet (Coenonympha nipisiquit) is a small (wing span 32–36 mm) tan to orange brown–coloured butterfly that is one of only two butterflies in Canada with a life cycle entirely limited to a salt marsh habitat. It is listed as Endangered under Schedule 1 of the Species at Risk Act since 2003.In Appendix A, minor changes were made to the coordinates of the polygon containing critical habitat for Forillon National Park and to the associated map.
COSEWIC Annual Reports
COSEWIC Annual Report - 2009 (2009-08-28)

2009 Annual Report to the The Minister of the Environment and the Canadian Endangered Species Conservation Council (CESCC) from the Committee on the Status of Endangered Wildlife in Canada.
Permits and Related Agreements
Critical Habitat Descriptions in the Canada Gazette